Risk is ubiquitous in the modern business environment. Whether related to sustainability, ESG, supply chain resilience and integrity, activism, cyber or wellbeing – it is high on the corporate agenda. In parallel, data, regulation, operational resilience, geopolitical shocks and market and macroeconomic volatility all remain as critical concerns for Boards and wider management. At best these challenges distract from strategic execution; at worst they result in businesses seeking, or being forced, to make wider strategic and operational changes and transformations or having to deal with a crisis.
As the leading legal adviser to public companies, we are close to all aspects of business risk, from preparedness (identification and mitigation), to execution (crisis management and investigations).
Our lawyers are multi-specialist, equipped to handle the broadest range of matters that our clients face and to help prevent or deal with them. We know our clients and their business deeply, helping to cut across any silos. This versatility and breadth puts us in a unique position to guide our clients through a complex and changing environment, and the evolving strategies required to navigate and succeed.
Our cross-firm Risk offering comprises experts across the broad waterfront of Risk, including: governance, culture, ESG, sustainability, shareholder activism, supply chain, responsible business, data, cyber, people, crisis management, internal investigations, regulatory and global investigations, class actions, 'dawn raids' and competition concerns. We drive efforts to scan and map Risk so whatever the matter that may threaten, or threatens, a business, we have experts on hand to assist clients in preventing, mitigating and dealing with it.
Our approach to risk
We drive a positive outcome by helping our clients identify and understand, prepare for and mitigate, and manage the risks they face.
Risk Identification
Through our in depth knowledge of clients and their industries we assist in identifying all types of risk they may face, including external, internal, structural and inherent risks. We analyse the likelihood of those risks manifesting and the potential consequences on a client's business and its stakeholders if they come to fruition, taking into account the particular risk appetite of each client.
Risk Mitigation
Risks can be mitigated in various ways, including by establishing positive cultural characteristics in a business, drafting, implementing and monitoring the use of internal corporate governance and other policies and procedures, delivering training, regularly reviewing business structures and implementing good governance procedures. We help our clients with these and other initiatives that prepare clients for any risk that may materialise and also mitigate against the likelihood of a risk, and associated crisis, emerging.
Risk Management
We assist our clients with risk management, including reviewing business structures, drafting and reviewing crisis / incident response plans and manuals and carrying out simulations, rehearsals or 'wargames'.
Incident and Crisis Management
Not all incidents and crises can be prevented. When one emerges, calm and experienced leadership, guidance and trusted advice is required. We provide our clients with immediate Partner-led expertise when they most need it.  We assist with all areas of crisis response, including immediate action plans and stakeholder engagement, regulatory interaction, public disclosures, external and internal communications and dealing with the media and insurers.
Key risk areas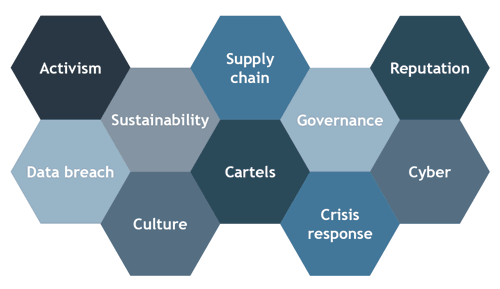 Sustainability
As awareness of climate change has grown, so too have the resources that businesses dedicate to sustainability and climate change related matters. We view sustainability and climate change as fundamental strategic and operational issues, impacting nearly all business decision making.
Our clients appreciate that these issues cannot be addressed by one part of their business alone. Similarly, we recognise the importance of lawyers across our firm working together and alongside our clients' other external advisers, including accountants, insurers and technical consultants. This has been central to our work helping clients prepare their strategic reports in the context of new transparency requirements relating to the reporting of risk and the impact of their operations on the environment.
Our multi-specialist approach brings together lawyers who are advising on issues as broad as carbon reporting, the use of matrices in contracts and finance documentation, sustainability drivers in directors' remuneration packages, due diligence considerations relating to sustainability, renewable energy projects and access to sustainable finance products.  
The practice group is set up to ensure that know-how on law and policy is shared, particularly where sustainability concepts have been applied in innovative ways, such as in our sustainable finance work, where we are a market leader. More generally, our lawyers have been advising and training a broad range of clients, including those within the FTSE 100, government departments and think tanks, on integrating sustainability considerations into contractual documentation and business strategy.
While our advice in this area often has a risk management nexus, our clients increasingly view climate change and sustainability related matters as an opportunity to differentiate themselves in the eyes of customers, investors and employees. We are providing our clients across various sectors, including energy, utilities, real estate and retail, with the legal tools to support their work in this area. This has included advising clients on preparing for the 'energy transformation' and working with property owners on incentivising tenant behaviour in respect of energy efficiency.
Our key expertise includes advising on:
Climate related disclosures: As with much of the advice we give in respect of sustainability and climate change, this is unchartered territory for many of our clients and best practice is often still emerging. We give clients practical advice that allows them to comply with their legal obligations, while giving them the freedom to make disclosures that are useful and accessible to stakeholders.
Climate risk and capital: We advise clients on all aspects of sustainable investment, including their regulatory and prudential requirements as investors and investment managers. This is a complex, fast-moving area, with corporates keen to optimise their investment strategies and reduce their exposure to sustainability risks, while keeping the right side of an ever-changing regulatory landscape.
Sustainable finance: Sustainable impact investing is now an important driver for many financial institutions. Our financing team supports clients looking to match their positive ESG-credentials with discounted financial products such as green bonds or green loans. We operate across different sectors helping borrowers with their sustainability goals. Notable examples are our work: supporting Derwent London, the first UK real estate investment trust to be granted a green revolving credit facility; advising Unilever on its first green bond, to fund projects related to Unilever's Sustainable Living Plan; and advising Electrolux on the financing of sustainable projects.
Climate related litigation: Increased awareness of climate change and the impact of commercial activity on the environment has spurred an increasing number of activist disputes, even in sectors not traditionally associated with environmental issues. Litigation seeking to leverage public and private law rights and duties in relation to climate or environmental damage present a growing risk to businesses. We help clients to identify and address areas of dispute risk, as well as assisting in resolving disputes when they do arise.
The development and trade of renewable energy: We advise on a full range of renewables projects and issues, including offshore wind, solar, biomass, biofuels and technology conversion. Our work ranges from advising Ørsted on the largest and most ground-breaking projects in the UK offshore wind sector through to providing legal support for solar projects in Africa.
Insurance issues relating to change in environment: We advise insurers on the impact of climate change on their businesses, from the frequency of extreme weather events on insured losses to the rapidly-changing prudential and societal obligations placed on insurers as investors. Insurers are coming under ever-increasing scrutiny from their customers and regulators – not only to minimise sustainability risk and to protect their capital, but also to 'do the right thing' when putting that capital to work.
Investor Activism
We act for more FTSE listed clients than any other law firm and regularly advise public company boards and management teams on the full spectrum of activist situations - from private engagement to public requisitions and campaigns, as well as M&A arbitrage and takeover bid defence.
Cyber
Our cross-stream Cyber group comprises legal experts from our corporate, financial services, technology, data privacy, IP, financing and dispute resolution teams. It also forms part of our multi-disciplinary Technology group which advises on the full spectrum of technology matters. 
Data privacy
Our data privacy practice is part of our multi-disciplinary cyber, risk and tech group. We provide clear, pragmatic and timely advice on all aspects of data privacy, from ad hoc GDPR compliance issues to complex global data risk strategic advice.
Governance and culture
Governance is under ever-increasing attention, from governments, shareholders, customers and wider stakeholders. Strong governance and a positive culture is critical for retaining and motivating employees and customers, raising capital and expanding a business, generating a positive internal culture and developing, and maintaining, a reputation for responsible business. 
Our experts advise listed and unlisted clients on their governance arrangements, reporting obligations and relationships with stakeholders and bodies representing institutional investors.
As corporate governance advisers to more FTSE listed clients than any other firm, we understand the issues that our clients face and have the experience to help them anticipate any issues which may arise in the future. With increasing regulation for unlisted companies, we are also able to leverage this experience in our advice to our unlisted clients on their corporate governance procedures. Governance requires a proactive and informed approach and our wealth of experience allows us to anticipate and respond quickly to unexpected developments.
Our experts are working at the forefront of corporate governance, advising clients on the latest developments and being closely involved in consultations seeking to shape ever more governance change. We regularly collaborate with the Chartered Governance Institute, the GC100 and other leading expert bodies in relation to recent and proposed corporate governance reforms and the implications of those reforms in practice.
Our expertise includes advising on:
The development of robust corporate governance regimes
Responses to shareholder activism and other forms of engagement
Listing Rules, Disclosure Guidance and Transparency Rules and UK Corporate Governance Code compliance
Disclosure, reporting and compliance, including AGMs and annual reports
Remuneration including remuneration policies and reporting
Board composition and structures, board committees and boardroom challenges
Directors' duties and responsibilities
Senior Managers Regime
Policies and procedures
Operational resilience
The pandemic has highlighted numerous weak spots in relation to operations. Whether external events, liquidity, cyber or data concerns or issues with supply chains, we advise across the breadth of issues related to maintaining and improving operational resilience. 
While customers are clearly a key stakeholder impacted by disruption, we also advise on regulatory issues which attract significant attention and penalties for organisations and directors. To mitigate this, businesses and organisations are increasingly expected to have business continuity and operational resilience arrangements in place that are "fire-drilled" periodically.
As trusted advisers who understand the breadth and complexity of our clients' businesses and sectors, we are uniquely placed to help devise operational resilience arrangements and then oversee their testing and development. Whatever the source of the disruption we are often the first phone call our clients make and our teams of experts and multi-specialists are on hand to help with both immediate and approaching concerns.  
We have expertise in holistic approaches to operational resilience, with specific focus on:
Financial stability
Cyber and data breaches 
IT infrastructure
Supply chain and procurement
Viability statements
By way of example, we have worked with a number of our financial services clients as they grapple with the new priority of the Bank of England, Prudential Regulation Authority and Financial Conduct Authority to strengthen the regulatory framework to promote operational resilience amongst financial services firms and financial market infrastructures.
Reputation
Reputation takes years to build, but can be destroyed in a moment, impacting a business' share price, workforce, customers and access to finance.
We have long known that businesses must contribute to society if they wish to maintain their social and environmental licences to operate, and society's perception of a business is critical to maintaining that licence, especially in light of increased stakeholder engagement and the 24 hour news cycle.
Understanding the threats to your business and the reputation of your business is not straightforward, but is heavily intertwined with the Risk agenda. We have extensive expertise working with clients whose reputations have been attacked and impacted, whether by activist investors, whistleblowers or external agencies or other parties. We advise clients subject to the most high profile disputes and regulatory investigations navigate the most difficult of periods.  
We have expertise across all sectors in understanding what reputational risks our clients face and in helping them to mitigate those risks across the breadth of stakeholders with particular expertise with regulators and other government bodies.
Crisis management
Business cannot eliminate all risk and, indeed, that is not the aim. And however much a business is prepared, incidents happen. Crises can manifest in any number of ways involving any manner of subject, whether external or internal, structural or inherent; they may emerge as a slow drip or a big bang and can be foreseeable or completely unexpected.
The response to an incident is vital in determining the outcome and whether an incident is or becomes a crisis. The first 24-72 hours are key. We understand that and provide expert and trusted advice when clients need it most.
We help our clients to plan ahead, so that they are as prepared as they can be if and when a crisis emerges. And if a crisis materialises, we are there to help at every stage: from the immediate actions that need to be taken in order to mitigate any harm caused, to the medium-term management of the incident and dealings with wider stakeholders, to the longer-term impacts, including potential follow-on litigation (defensive and offensive), internal and/or external investigations and regulatory action. 
We work with clients on all aspects of a crisis situation, including internal investigations, regulatory investigations, parliamentary enquiries and matters involving whistleblowing.
We also advise our clients on:
Brand reputation
Global investigations by regulatory or professional bodies or government agencies
Media investigations or leaks
Sudden unexpected events
Natural disasters
Regulatory enquiries
Client and customer complaints
Supply Chain
While accelerated and accentuated supply chain challenges, it is only one recent driver of change. The Covid-19 pandemic, emerging technology, geopolitical instability and the increasing importance of ESG have all contributed to the evolution and re-evaluation of supply chains.
Scrutiny of supply chains and associated business relationships from a breadth of stakeholders, including regulators, investors and customers, has increased.  In response, companies are adjusting supply chains and extending diligence to improve resilience and better manage reputational, commercial and regulatory risks.
We advise on the full range of strategic, transactional and operational matters related to supply chain risk.  Our advice centres on our ability to identify, manage and mitigate risks and opportunities for our clients. 
Identify
With supply chain resiliency and ESG concerns both a board-level issue and a key focus of investors and wider stakeholders, we are ideally placed to support efforts to ensure compliance and support strategic and operational transformation of supply chains as businesses buy and build more effective and secure operations.  This is relevant in the context of corporate acquisitions, public takeovers and entry into major commercial contracts.  We conduct the critical legal due diligence for companies, lenders and investors, across various industry sectors, including food and beverage, chemicals, construction and manufacturing, to identify opportunities and challenges – including where there may be legacy concerns around supply chain operations and processes.
Legal due diligence is only one piece of the jigsaw and we are in a strong position to partner with other experts to provide the necessary technical, operational and commercial overlay.
Manage
It is vital that companies rigorously review supply chains for legal, commercial, operational and reputational weaknesses. We oversee the mapping of risk across the ESG and wider commercial and regulatory spectrum and the implementation of practical steps to reduce exposure, including in respect of supply chain activities.
We advise clients on their regulatory obligations (compliance and disclosure) and directors' duties and help put in place appropriate frameworks to address commercial and legal risks associated with matters such as slavery, environmental impact and supply chain traceability.
We advise on the systems and processes necessary to demonstrate robust compliance, both in terms of mandatory requirements and voluntary, industry-specific initiatives.
The emerging focus on corporate accountability in respect of supply chains has also provided us with opportunities to work with clients to introduce 'green clauses' into contracts to incentivise responsible business behaviour across the supply chain and produce legally binding commitments in respect of matters identified during the procurement process.
Mitigate
When failings or potential failings dictate immediate action, and, amongst other things, reputations are at stake, our clients turn to us.  It may be a direct dispute with a supplier, or an action brought in relation to alleged behaviour within the supply chain - we have the experience and expertise to manage the process and achieve a desired outcome for our clients.
Supply chains are a potential weak spot for exposure to legal, commercial and reputational risk. Remote operations, outsourced resources and/or distant third parties can expose companies to potentially significant financial and reputational impacts in relation to bribery; fraud; money laundering; data loss; business, labour and ethical failings; tax evasion and related sanctions.  With a wealth of experience in the highest profile matters across the broad waterfront of regulation, we are ideally placed to advise on investigations by regulators and governmental authorities, as well as related disputes and internal investigations.