Our 2020 Cohort
Whilst we could only have one winner, we are proud of all seven members of our cohort who were initially selected by the Collaborate team alongside the programme's Client and Advisory Panels.
You can find more information about each cohort member below, in addition to contact details if you would like to find out more.
Della AI

Category: Document review
Summary: Della accelerates contract review. Users ask their own questions in their own words to analyse the points that matter to them. Della is used in due diligence and internal audits as well as day-to-day analysis of contracts, leases and other legal documents.
Biography: Christophe and Nicolas founded Della in 2018 to simplify and generalise the use of AI for contract review. Christophe focussed on the business side and with Nicolas leading the AI effort. Hugo joined us early 2019 to bring legal experience and to focus on building a product that wouldn't require a specialist to use. 
The idea for Della came from some of Christophe's frustrations with the way legal services were delivered to his previous business, specifically an overlooked non-compete that nearly scuppered its sale. 
Della has a team of 12 and is used by law firms and in-house departments in Europe to review legal documents in over 5 languages.
Cohort Video: https://media.slaughterandmay.com/view/x0wd3LZLWrG 
Website: https://dellalegal.com/
Find out more: To find out more or arrange a demo, please contact [email protected]
Immediation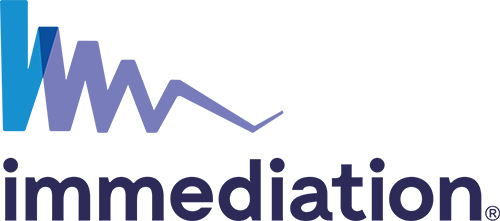 Category: Dispute resolution
Summary: Immediation is a confidential online dispute resolution platform, providing advanced hearing and mediation technology to courts, and an alternative fixed-fee, easy, secure and highly efficient method of resolving disputes outside court.
A commercial barrister since 2012, in 2017 Laura Keily founded Immediation – a secure and confidential platform now providing advanced hearing and mediation technology to courts, and an alternative fixed-fee, secure and highly efficient method of resolving disputes outside court. 
Moving into litigation from her first career as a transactional corporate lawyer including at Slaughter and May, Laura became deeply concerned about difficulties with access to our legal system.  In 2017, Laura could see an opportunity to innovate to facilitate better and earlier dispute resolution. She founded Immediation and engaging former Google engineers, created a patent-pending technology platform launched in September 2019 that makes it quicker, easier and more affordable to resolve commercial disputes using mediation or arbitration via structured workflows. Immediation's end-to-end service utilises our world-class expert Panel to resolve commercial and family disputes in our own web-based video-conferencing tool. 
In 2020 we reimagined the Immediation Platform to provide enterprise-software-as-a-service to courts and tribunals.  We made the Platform available as secure single-use virtual mediation/arbitration rooms for the legal profession including legally trained clerks to assist if required.  We also launched Immediation Dealmaker, a second SaaS platform for mediators, arbitrators and lawyers to easily conduct their own matters, to turn "disputes into deals".
Cohort Video: https://media.slaughterandmay.com/view/Immediation 
Website: https://www.immediation.com/
Find out more: To find out more or arrange a demo, please contact [email protected]
Office & Dragons

Category: Document automation
Summary: Office & Dragons is a document automation startup on a mission to make documenting transactions simple, reliable and fast. It empowers lawyers to transform documents from a mess of static text into dynamic representations of data.
Office & Dragons helps lawyers efficiently develop bespoke contracts for deals. We generally work with lawyers leading teams at large firms who are doing quite well, but who are frustrated with the toil and confusion that can get in the way of getting deals done, upset that it results in wasted time and worried about human error slipping into the documents in the rush to get deals over the line. Document automation tools don't help them, because they're not simply choosing between stock clauses in a template; their work is bespoke. Our software helps teams do excellent work efficiently by keeping deal terms organized and automating away some of the heavy lifting from creating and editing contracts. It works for any deal, any doc, any time and can be used by anyone, without any pre-deal setup.
We were founded in 2019 by Sam Smolkin, our CEO. As an M&A lawyer at Kirkland & Ellis in London and New York, Sam used to advise large private equity funds on billion-dollar deal. Sam is also a software developer, and his insights at the intersection of law and software drive our unique approach to solving the problem of how to execute excellently on deals in the face of a world that's getting faster, more complex and more competitive. Since then, our team has grown quickly. Matt Philson (COO) is an excellent agile manager with a decade of experience building and leading data analytics and developer teams at blue chip financial institutions. Carissa Liu (Design) is putting a friendly face on legal tech with our unique brand, overcoming the natural fear many have when adopting a new way of working. Wilson Shrestha (Engineering) was previously head of engineering at an AI startup building a product for universities. Logan Oliver (Business Development) was a project manager at Amazon and BT, making him an excellent partner to our customers as we work together to deploy our solution. He's also our resident Dungeon Master -- no joke, he runs a fortnightly legaltech Dungeons & Dragons campaign. In addition to the Collaborate program, we're supported by two more great legal tech programs run by Barclays and LexisNexis.
Cohort Video: https://youtu.be/DYEOoPScTJs 
Website: https://www.officeanddragons.com/
Find out more: To find out more or arrange a demo, please contact [email protected]
thedocyard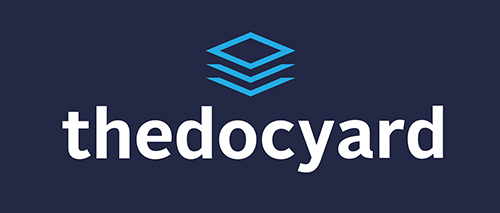 Category: Transaction management
Summary: thedocyard is a deal management and transactional workflow platform which digitises and automates deals by standardising repeatable processes, providing real time status updates, providing virtual data rooms and allowing collaboration between parties.
As deal-makers, we know what it takes to close deals on time, on budget, and on-the-go.
A career in deal-making drove corporate lawyer Stuart Clout to start thedocyard (www.thedocyard.co) in 2014.
Stuart's mission: to deliver the next generation of dealtech and board management solutions on a global scale. Since then, our deal management platform is now trusted by the world's leading corporate advisory and teams, including PwC, BUPA, Grant Thornton, DLA Piper, K&L Gates, Gethen Capital and AJ Gallagher, to help make their deals flow.
In 2020, thedocyard listed on the ASX and acquired Athena Board (www.athenaboard.com.au), a simple, secure board meeting management platform. This positions thedocyard as a leader in corporate governance and information management solutions.
Cohort Video:  https://media.slaughterandmay.com/view/thedocyard 
Website: https://www.thedocyard.co/
Find out more: To find out more or arrange a demo, please contact Stuart Clout, Founder & Chief Executive Officer at [email protected]
Lexical Labs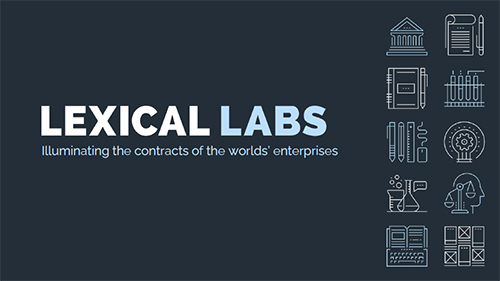 Category: Document review
Summary: The Lexical Labs system is designed to review documents, identify problems or negotiation points and provide solutions, by combining advanced technology and embedded expertise.
Biography: Lexical Labs aims to illuminate the contracts of the world's largest enterprises - combining artificial and human intelligence to transform the review and negotiation of commercial contracts and capturing the data for risk and contract management purposes.
We are a founding team of recovering lawyers and top technologists - Liam - 13 years in Big Law at HSF and New Law Firm Radiant Law doing inhouse legal work. Will - 15 years of development experience and a PHD in Artificial Intelligence.  Simon - 25 years at A&O mainly in Asia doing finance and M&A work.  We have a team of about 10 software engineers, UX designers, lawyers and legal engineers. We all share a passion in making the law more accessible, affordable and exciting.
Our journey started in 2016 with Liam and Will building the initial system and continued with Simon joining in 2018 to help commercialise the system. We currently serve more than 500 users across 25 corporate and law firm customers across a range of contract types and with integrations into MS Sharepoint and Word. Aside from Collaborate, we are currently members of the Eagle Labs accelerator run by Barclays and a group of law firms. We are thoroughly enjoying our Collaborate experience so far.
Cohort Video: https://www.youtube.com/watch?v=WzFbF61Rn9c 
Website: https://www.lexicallabs.com/
Find out more: To find out more or arrange a demo, please contact [email protected]
Novastone

Category: Communications
Summary: Novastone is a secure instant messaging platform integrated with public IM such as WhatsApp and WeChat. It is designed for firms to deliver a personalised client experience through relationship teams.
Biography: Novastone is the provider of a new chat operating system that can run in either a dedicated Cloud or as a true software-as-a-service deployment where clients are in total control of all data, processes and end points. APIs integrate to home-grown and off-the-shelf software solutions to leverage existing investments by the client organisation. The most popular instant messaging solutions are pre-integrated and offer support functionalities such as one-click secure transactions through biometrics. Our patented asymmetric chat architecture puts control in the hands of service teams and client managers.
In several of our deployments we have seen a 90 per cent shifts from email and alternative messaging platforms to Novastone. But the metric that has surprised our clients the most is the more than 50 per cent reduction in phone calls as their colleagues no longer play telephone tag with clients. By moving to a service, defined primarily as a series of conversations, we engage our customers with their clients on a deeper emotional level. This is done at a lower cost and with higher security than email, paper forms and call centres. We enable a richer dialogue and build a deeper relationship.
Novastone is an award-winning provider of instant messaging (IM) solutions for regulated industries. It enhances internal and external communication between colleagues, clients, bots and other systems.
The Novastone solution has been deployed with some of the world's largest banks in Europe and Asia. It is helping them to move to a conversation-centric experience which is expected by clients.
Novastone helps transition clients from email with complementary WhatsApp and WeChat channels to a wholly owned, controlled and compliant platform.
Cohort video: https://vimeo.com/336591308
Website: https://www.novastonemedia.com/
Find out more: To find out more or arrange a demo, please contact the team at [email protected]