Emily Hunter
Trainee secondment to Paul, Weiss
Sitting in my office overlooking Radio City Music Hall and the Rockefeller Center, it is hard to believe that my six months at Paul, Weiss in New York are nearly at an end.  The decision to apply for a secondment to a city, 3000 miles from home, that I hadn't yet visited, was one of the boldest and best I have ever made.  Needless to say, New York is an incredibly vibrant, cultured and exciting place to live. My weekends have been filled with visits to all of the classic New York sites (including cycling round Central Park, Brooklyn Bridge, watching the Yankees, Knicks and Rangers play) as well as exploring each of the neighbourhoods that gives the city its varied personality.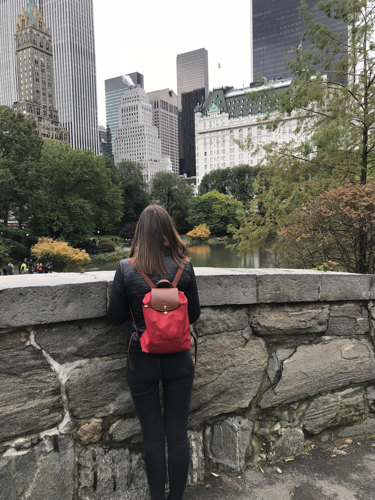 The American work ethic is second-to-none and the lawyers here work very hard. This is, however, balanced by a friendly, relaxed feeling in the office and some amazing perks – my personal favourite being the Friday evening drinks parties in the staff canteen, or 'Jury Room' as it is called. I have been fortunate to share an office with two of the US first year associates who made me feel very welcome and with whom I have become close friends. I have taken on a lot of responsibility and have learnt a great deal about how corporate transactions operate in the US. I have had frequent client contact and been able to actively participate on calls and in negotiation meetings.  
The visiting lawyer programme is well established here with frequent training and social events. These have included a trip to the Paul, Weiss suite at Madison Square Gardens to watch ice hockey, a thanksgiving dinner and several lunches out of the office with my mentor. The highlight, however, had to be the Scottish evening which the firm organised in my honour – a great event at a Scottish restaurant (unimaginatively called 'Highlands') where I was able to share some of my heritage and culture with the other visiting lawyers over haggis, whisky and bagpipes.  
This secondment required me to push myself out of my comfort zone and I am so glad that it did. I look forward to returning to London with experience which will set me in good stead for qualification.